Level 5 Advanced Diploma in Tourism Management
The CTH Level 5 Advanced Diploma in Tourism is a substantive management programme, typically taught over a nine month period and designed to provide students with direct entry to the final year of a university bachelors degree.
Programme Overview
The course aims to provide students with an understanding of the managerial, decision-making and leadership aspects of the tourism industry. In addition it is also designed to develop independent research and study skills required when working at senior managerial level in the industry.
Therefore, the Level 5 Advanced Diploma is an excellent preparation for either entry to the workplace or as a springboard into final year bachelors degree level study.
Admission Requirements
Entry is available to graduates of the CTH Level 4 Diploma or an equivalent approved qualification. Students must have a minimum English proficiency of IELTS 5.5 or an approved equivalent.
Students who do not satisfy the English language requirement may choose to combine this programme with CTH's English for Hospitality & Tourism.
Entry & Progression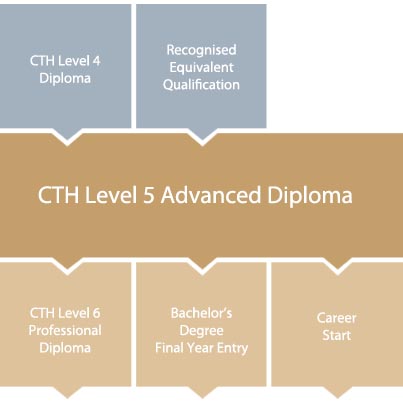 Sample Certificate
Syllabus Overview:
Level 5 Advanced Diploma in Tourism Management (QAN: 601/7135/2)

Students must achieve:

All 7 Mandatory units, providing 120 credits, of which 15 credits are at level 4 and 105 are credits at level 5

Credit Value (CV): 120
Guided Learning Hours (GLH) for Qualification: 480
Total Qualification Time (TQT) for Qualification: 1200
Mandatory Units
Unit Code
Unit Title
L
CV
GLH
URN
Assessment Method
UFTH
Understanding Funding and Finance in Tourism and Hospitality
4
15
80
K/507/8366
Closed book written examination
HRMTHI
Human Resource Management in the Tourism and Hospitality Industry
5
20
60
T/504/4421
Assignment
SMTHI
Strategic Marketing in the Tourism and Hospitality Industry
5
15
60
A/504/4422
Closed book written examination
CRMTHI
Customer Relationship Management in the Tourism and Hospitality Industry
5
15
60
F/504/4423
Assignment or work-based assessment
CITHI
Contemporary Issues in the Tourism and Hospitality Industry
5
15
60
J/504/4424
Closed book written examination
TOM
Tour Operations Management
5
20
80
J/504/4455
Assignment
STDD
Sustainable Tourism and Destination Development
5
20
80
D/504/4459
Assignment
Advanced Diploma Total (7 units)
120
480
Understanding Funding and Finance in Tourism and Hospitality:
This unit covers understanding the concepts of financial management and accounting within a hospitality or tourism business; controlling the finances and managing the cash flow and manage the profitability of a department within a hospitality or tourism business.
Assessment: Examination
Human Resource Management in the Tourism and Hospitality Industry:
This unit covers understanding the principles of human resource (HR) management in the tourism and hospitality industry; leading teams and developing human resources policies.
Assessment: Assignment
Strategic Marketing in the Tourism and Hospitality Industry:
This unit covers contributing to the development of marketing and sales strategies in the tourism and hospitality industry; optimising marketing communications, building strategic partnerships, new product development and understanding the purpose and components of an organisational business plan.
Assessment: Examination
Customer Relationship Management in the Tourism and Hospitality Industry:
This unit covers developing a customer service strategy in the tourism and hospitality industry; managing customer relationships (CRM) and evaluating customer service.
Assessment: Work-based or Assignment
Contemporary Issues in the Tourism and Hospitality Industry:
This unit covers understanding how to identify emerging issues in the tourism and hospitality industry and examining their impact.
Assessment: Examination
Tour Operations Management:
This unit covers understanding the global market for tour operations; compiling and marketing an international tour/package holiday and understanding the international legal framework within tour operations.
Assessment: Assignment
Sustainable Tourism and Destination Development:
This unit covers an understanding of the scope and management of sustainable tourism and its environment and destination development.
Assessment: Assignment or work- based assessment
University Pathways
Students who successfully complete the CTH Level 5 Advanced Diploma are eligible to gain progression to a number of universities worldwide. Some of these are shown below but for full details click here