Students
This part of the site is dedicated to you – our students.
Here you'll find information about what it means to be a CTH student; everything from how to join a programme to how a CTH qualification can benefit your career.
Student Introduction
CTH offers a wide range of programmes leading to internationally recognised CTH qualifications. Here's a 5-step summary of the process to achieving a CTH qualification.

I am interested in a CTH course - what do I do?
Check the Centre Search Engine for an extensive list of Worldwide CTH Approved Teaching Centres, please click here.

Now what?
Click on the study centre of choice and you can send an enquiry directly to them. Or call one of the centres you are interested in for a range of dates, prices and course duration.

And then?
Once you have enrolled with them your Centre will register you with CTH for your course and as a CTH Student Member. (As a Student Member you will receive access to the CTH Members online resource website which has all sorts of useful study support materials, industry news and a variety of career opportunities in the sector). You will then be eligible to commence your course.

What about exams and assignments?
When the exams or assignments are due your Centre will register you for each one with CTH on your behalf.

And the results?
You will receive a Statement of Attainment of all your results achieved and once you have completed and passed the whole course a certificate will be sent to your Centre for them to give to you.
Once you have received your certificate you'll be ready to continue your studies or start an exciting career. Good luck!
Exam & Assignment Schedule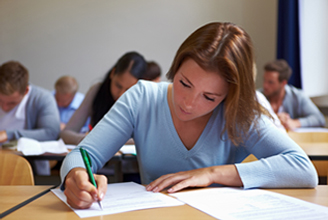 View Information
CTH Members Online
View Information
Student FAQs
About Studying on a CTH Programme
In what kinds of industry sector can I specialise in with a CTH programme?
CTH is a specialist award body for the Hospitality, Tourism, Travel and Culinary sectors. We offer a range different kinds of courses at a range of different levels, from Level 2 practitioner up to Level 7 postgraduate. Our more theoretical strategic courses are grouped under Management programmes, while our more practically-based programmes are grouped under Continuing Professional Development (Formerly, Career Skills) programmes. Take a look at the drop down menus under the heading 'Qualifications' on this website.
How long do the courses last?
There is no fixed duration for any CTH programme and different CTH courses may run from as little as two days right up to as much as three years or more. CTH programmes require a set minimum number of study hours, however different Approved Teaching Centres may space these learning hours to suit the needs of the particular market they are catering for. For example, some CTH Aprroved Teaching Centres specialise in offering courses for part-time learners, while others will specialise in full-time learners. Others may also run CTH programmes on an intensive basis for those students seeking a 'fast-track' course.
What level of English do I need to start a CTH programme?
All CTH programmes are structured and assessed in English. English level requirements vary depending on the level of the course, with a higher level of English proficiency being required for a Level 7 Management programme, for example, than for a practically-based Level 2 Culinary Award. Also, individual CTH Approved Teaching Centres may have their own English language requirements, so you are advised to check with your local Centre. In general, most CTH programmes require applicants to have an English level higher than B1.
Where can I apply?
All applications for Student Membership and for registration to take CTH assessments must be made through a CTH Approved Teaching Centre. Please see the CTH Approved Teaching Centre search engine on this website to locate your nearest Centre.
Why can't I send my application to you directly?
CTH is an awards body, not a college, and so does not run courses itself. Every student must be assigned to a CTH Approved Teaching Centre and it is part of our binding contract with them that all data and payment must come from your College representative. Please note we cannot accept any individual cheques/cash/credit/debit card payments for Student Membership applications or exams/assignments.
How much are the exams?
Exam/assignment fees vary depending on the course you are studying. Please check with your Approved Teaching Centre.
If I am a CTH Student Member, how can the CTH Member website help me with my studies?
When you log into the Student Member section of the website you will gain access to a range of resources designed to help you in your studies. These range from past assignments and exam papers to recommended texts and study materials. There is also a large free online library of ebooks that you can use for background reading on your study subjects. In addition to all of this, many Approved Teaching Centres set up networking groups for their students in the Social Network section of the site, providing an excellent forum where students can ask questions and exchange ideas.
What are the CTH study resources?
The CTH study resources are available to registered CTH Student Members on the CTH Members section of the CTH website and comprise a wide selection of support materials for CTH's Management programmes. Resources include ebooks, past exam papers, study material, journals and reading recommendations that CTH provides to students to assist them with their studies.
What if I want further support materials?
If you are studying for a CTH Management Programme then your Approved Teaching Centres will have access to our suite of specialist CTH Learning Toolkits. There is one for each subject module, giving structured support built around the specific scope of the syllabus.
So how and when do I register for the exams or assignments and when are they?
Individuals cannot register for CTH examinations or assignments. All registrations must be done via that student's Approved Teaching Centre. CTH Management Programme examinations are held five times a year, in January, March, June, September and November. CTH Continuing Professional Development Programmes have different assessment dates. Please check with your Centre to confirm these. Important note: There are deadlines for registration for each exam series that must be adhered to.
What if I miss any of the deadlines?
In the first instance, explain your circumstances to your Centre and ask them to contact CTH to request a late entry. In some circumstances, and depending on how late after the deadline the request is made, this may be accepted, subject to payment of a late registration fee.
When will my results be declared and to who?
CTH is a global organization with Centres across the world, but also one that prides itself on assessing all candidates to a single standard. We therefore mark and moderate all assessment series in London to ensure consistency. This can take a little time, for example, typically 9 weeks in the case of Management Programmes. Please note: The official CTH results declaration date is the date results are declared by CTH and then sent to your College. Your College will need to collate the information and complete their own administration before the results will be available to you.
What if I cannot take the exam at my Centre?
This should only happen in exceptional circumstances when the Centre is unable to host the assessment. In those circumstances CTH will do all it can to assist students by arranging alternative options.
Why won't CTH speak to me directly?
CTH operates via its Approved Teaching Centres and has a strict policy of only communicating to students via these Approved Centres. This rule is applied in order to maintain the college's examination/assessment responsible officer as the hub for the passage of information and so minimise the risk of confusion or error.
Can I study any exams/assignments myself?
CTH requires students to be registered at one of our accredited centres, for optimum knowledge, teaching, support and to maximise your potential, with the help of qualified and experienced staff. This will also follow regulations set to us, adhering to the teaching guidelines. Therefore, studying alone is not an option. Please see our list of approved centres.
Is it possible to study for a CTH programme whilst also working or undertaking work experience?
Yes. In fact many CTH Approved Teaching Centres encourage this and some even organise placements for their students as part of their courses. Certain CTH programmes, most notably CTH Level 4 Management programmes, allow students to actually be assessed for their part of the qualification within the workplace.
Can you email me my results?
We do not email results directly to students, they are sent to your College.
What about over the phone?
Again, due to confidentiality, results are not given out over the phone.
Can I appeal my results?
Yes you can – your College will fill in an appeals form by our deadline and send to us where we will review your results.
If I fail an exam or assessment can I take it again? And how many times can I retake it?
Yes you can. If you fail an exam or assessment then you can try again up to a maximum of three extra times. Remember though that for many of its awards CTH has only set dates each year when exams can be taken.
About Student Membership
How can I become a CTH Member?
To become a Professional Member of CTH you need to meet certain admission criteria (see the Membership section of this website for further details), but any student undertaking a CTH programme may become a CTH Student Member. In fact it is compulsory for any student studying at Level 3 or above. To register as a Student Member you must apply via your college who will organize your Membership for you.
What are the advantages of becoming a CTH Student Member?
As a CTH Student Member you can network with other students from different parts of the world and ask questions, share opinions and get advice. The CTH Members website provides industry news, interesting articles, study resources and even industry jobs in your area!
Are there special events that I can take part in?
CTH does not usually organise events but you can create a group on the CTH Members section of the website and use that to network with other CTH Members in your area.
How much is membership?
Student Membership for one year is included in your Student Registration Fee of £15.
How long is my membership?
Your membership will be valid for a year.
So do I need to re-enrol?
You do not need to re-enrol. Your CTH Student Membership number will be with you throughout your studies.
About the CTH qualification I will receive
Is my CTH Certificate or Diploma valid for life or do I have to repeat any assessments again?
Once successfully completed any CTH award is valid for life. But if you don't successfully complete your course within 5 years then you have to start again.
What do the different levels of qualification mean?
CTH is approved by Ofqual, the qualifications regulatory authority for England. Its qualifications are therefore registered with Ofqual according to its grading levels. CTH currently offers qualifications from Level 2 (essential skills) up to Level 7 (postgraduate).
How do I know a CTH course is relevant to my future career?
CTH is a specialist industry-focused body with strong links to the industries (Hospitality, Tourism, Travel and Culinary) that it serves. That is its great strength. It's syllabi have therefore been developed in consultation with those industries to deliver the skills needed by employers. In addition, CTH awards are periodically updated as necessary to keep them in-line with current industry practice to make sure they are not just relevant at inception, but that they stay relevant into the future.
Do you offer access to any job possibilities?
The CTH Members website has a page called 'Job Search' in which you can find a range of current jobs posted on-line in many different countries around the world. You can browse them from the website and then if you are interested you can apply online from the page.
Are CTH qualifications officially recognised?
CTH is fully registered in the UK and approved by Ofqual, the qualifications regulatory authority for England. As an official British award body CTH qualifications are respected the world over. In addition, CTH qualifications are specifically recognised by government authorities in a number of other countries, but the sheer number of countries in the world makes it impossible for the Confederation to register each of its qualifications in every single one. Another factor that helps ensure the value of a CTH qualification to the holder is the fact that CTH carries the support and endorsement of a large number of leading international companies and organisations in the Tourism, Hospitality, Travel and Culinary sectors.
What Universities can I go to?
There is a wide selection. Take a look at our University Pathways page. If the university you are aiming for is not listed you can contact us and we will see if we can help you by notifying them of the details of your qualification.
Help! I've lost my certificate
That's okay. You can request a duplicate from your Centre. They will advise the fee.
What if I've finished and passed the course at my College and need duplicate Certificates or Statement of Attainments?
Your Centre will need to contact us and we will check your status to help you further.
How can my new College or University or potential employer know if I have really passed my CTH qualification?
If a student has passed and completed their CTH course, the CTH qualification they are awarded with can be checked using our Certificate Validation Service
I have a query, how do I get in touch with CTH?
Please view our contact details in the Contact us page.